Hello one and all! I found a new blogger today whom I am looking forward to following,
Leslie at Night Owl Crafting
. She is hosting a blogger's link party I think they are called and today is
Hoo Are You?
A series of questions I have to answer then link my blog back to hers in her comments. Here is her totally cute button: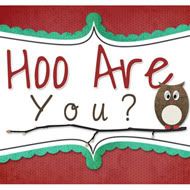 So here are the Questions:
1. Do you like the season, Fall?
Love it!!
2. What is your favorite fall smell?
Baking bread
3. What is your favorite activity to do in the fall?
Sew, take walks
4. Do you dress in fall colors during the season?
when I can, I recently shrunk out of many of my winter clothes with no money to replace them
5. Name 4 qualities about yourself that start with each letter in the word FALL!
F - feisty
A - artistic
L - loyal
L - lazy